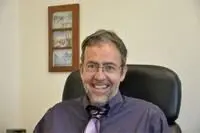 Paul Bosco is a Licensed Clinical Social Worker (LCSW) with over 30 years of experience providing individual, couples, and family counseling to adults ages 18 years to seniors. He has extensive experience treating habit-control problems and health-related problems such as smoking cessation, weight management, chronic pain, and stress reduction. Paul consults with the cancer treatment program for cancer patients and spouses at the Helen Graham Center at Christiana Hospital.

Paul received his Master of Social Work (MSW) degree from Temple University School of Social Administration. His post-graduate training includes the Philadelphia Child Guidance Clinic, the Family Therapy Training Program at Hahneman University, and the International Psychotherapy Institute in Chevy Chase, MD.

Paul's philosophy of treatment is based upon the belief that we all have within us the resources to cope with life's challenges. However, at certain times in our lives, life's challenges can overwhelm our established coping mechanism or expose the vulnerabilities-weaknesses we all share as humans. It is at times like this that a person, couple, or family may reach out to a therapist for help. The therapist needs to be able to make a connection that inspires a trust that allows a client to open up about the pain he or she faces, to be receptive to help, and to make efforts required to develop internal resources for growth and change.

Professional Memberships:

Licensed Clinical Social Worker, Clinical Social Work Society of Delaware
International Psychotherapy Institute (I.P.I.)
Greater Philadelphia Society of Clinical Hypnosis
For additional information on Paul Bosco, LCSW and to read my blog articles, please go to paulboscolcsw.com.